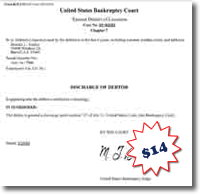 Bankruptcy Discharge Papers
Bankruptcy discharge papers, dismissal papers, or final decree proving that your bankruptcy is finished.
This is often needed when applying for a loan, renting an apartment, or applying for a new job.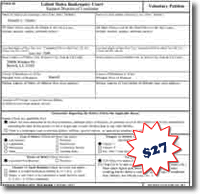 Schedules & Discharge Papers
Includes Federal bankruptcy schedules D,E, & F (list of creditors), your discharge papers, and the voluntary petition
Most often needed when trying to get a mortgage, conducting credit repair, and stopping harassing phone calls from debt collectors.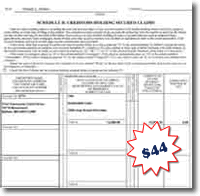 Complete Bankruptcy File
The complete bankruptcy file includes the Voluntary Petition, all Schedules, Reaffirmation Agreements, the Discharge, and any other documents available on record.
Often necessary when trying to get VA, FHA, or SBA loans.